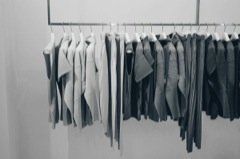 Getprice buyer's guide: Clothing & fashion
Find out how to you can look your best with picking the most flattering dress, the coolest accessories or that perfectly tailored suit.
Women love to get dressed up, put on special make-up, spend extra time on their hair, and slide into some sparkly shoes.
There are so many watches available on the market today, in different styles, shapes, colours, and materials that it can be overwhelming to walk into a store and pick a watch out from the thousands of products expertly displayed in the case.
For many people, sports watches are an important part of everyday life. They provide versatility, fashion, and functionality that traditional watches cannot.
There are a number of dress styles in the world of fashion, and it seems as though sometimes you just can't find a dress that you like that fits your body correctly.
One of the greatest ways to look your absolute best is to dress in the right clothes that hug you in all the right places.
As you are most likely aware, there is most certainly no shortage of selection when it comes to watches.
Watches are an essential part of many peoples' everyday lives, but finding a good quality product in a market that is known for less-than perfect functioning items can be a difficult task.
There is nothing like getting ready for the summer season with some new sexy summer dresses.
If you have been shopping around for a watch lately, you will understand just how difficult it can be to make the decision of what best suits your lifestyle.
Winter is nearly over, which means it's time to take your skin out of hiding and give it some of that glorious vitamin D!
There is nothing like getting ready for the summer season with some new sexy summer dresses.
Summertime is the perfect time to wear dresses that will make heads turn.
This new season in dresses is all about bells, balloons, and fur.
Every athlete understands the importance of having a functional watch that not only provides exceptional functions, but is also able to withstand even some of the harshest environments and conditions.
Watches aren't just for grownups. Kids watches are bright, fun, and are a great way to teach children about time and responsibility.
Watches have been more than just a means to keep track of time for centuries. Watches have also been a fashion statement as well as a indication of wealth, sophistication, and even education.
Women everywhere appreciate exploring how the "other half" live. You know the ones. They are the celebrities that have more money than they have a clue what to do with.
Handbags are a must-have accessory for women of all ages. Not only can a beautiful handbag bring together and provide the finishing touches on a gorgeous outfit, but your handbag will keep your necessities close by.
Travelling the country, or the world, is a great adventure. There are so many things to do, places to see, people to meet, that many people get bitten by the travel bug and try to visit new lands as much as possible.
Anyone taking a trip longer than a few days should consider the possibility of getting stuck in the rain. Instead of being left soaking wet, always pack waterproof items to keep you and your belongings nice and dry.
A picture is worth a thousand words. It's true. However, did you know that your briefcase paints a picture to the world about you?